Dress Me Up – mobile app
a concept project

THE CHALLENGE

---
Take a daily task and find a way to make the process more efficient
"What should I wear today?"
A 2015 survey concluded that it takes the average person about 1.5 hours a week (or just under 15 minutes daily) to decide what to wear for a typical work day. Elements that go into this decision process include: weather, dress code, day (and evening) activities, and most importantly, if the result creates confidence in the wearer and his or her final decision
That's a lot to think about!
THE OBJECTIVE
---
USERS:  to experience more empowerment, a less stressful situation and inspiration that leads to smarter decisions
PERSONAL:  to explore the ins and outs of UX/UI design while completing my first mobile app project; to learn by doing
THE PROJECT
---
A mobile app that helps users decide what to wear in a more efficient, organized and confident manner—with a little added fun
DELIVERABLES
---
User Research
User Flow
User Testing
Sketches & Iterations
Wireframes
Animated Prototype
INTERVIEW DATA
To further explore the existence and extent of a problem, I interviewed both users and stakeholders.
"When you wake up everyday, how would you describe your experience of getting dressed? (Is it tasking, exciting, stressful? How long does it take you?"
"On a scale of 1-10 (10 being most difficult), how would you rate the decision-making process for you wear?"
"What's the worst part about getting dressed?"
"If there was a tool like a mobile app to help make this process more efficient, would you use it?
Why or why not?"
KEY TAKEAWAYS:
Allow users to add up to 3 items for an outfit (tops, bottoms, footwear)
Display items in grid format, tops, bottoms and footwear accordingly
Integrate a horizontal scroll feature as the search feature
User Testing Insights
"It's too complicated. There are too many screens."

"If I can only add up to 3 items for an outfit, I can just make a mental note of the items.
I wouldn't need to save it for any reason."
After running a usability  test, I received feedback regarding the overall process of how to compose an outfit.  The insight was to simplify by eliminating unnecessary steps and providing users with a clearer display of their outfit.
PRODUCT STRATEGY

What is Dress Me Up?

"I don't always want to wear the same things; I'm looking for ways to shake things up!"

"I'm just starting out and need to work with what I have—I need to be creative while staying on a budget."


COMPETITIVE AUDIT
Comparison of mobile apps that have a competitive concept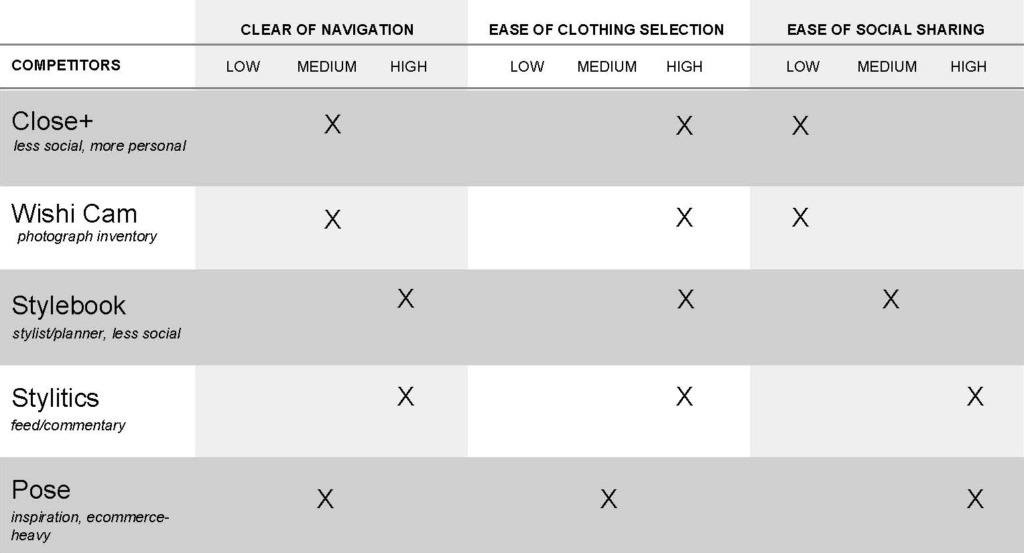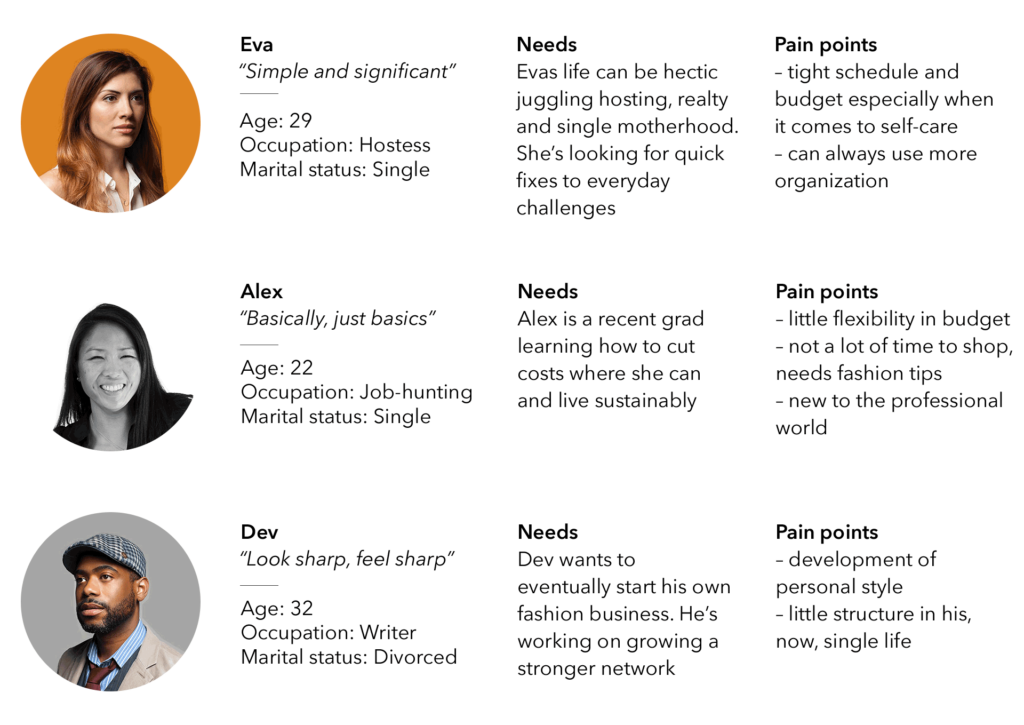 SCENARIO
Dev asks Eva to go on a brunch date.
He's over-the-moon excited but since he's just getting back into the dating scene, he has no clue what to wear. Saturday will be 72 and sunny. The brunch spot is a local favorite, nothing fancy but not just an average diner. He's thinking about what he owns and pulls up Dress Me Up to flip through his closet
DESIGN PROCESS
Iterations were tested and improved through user insights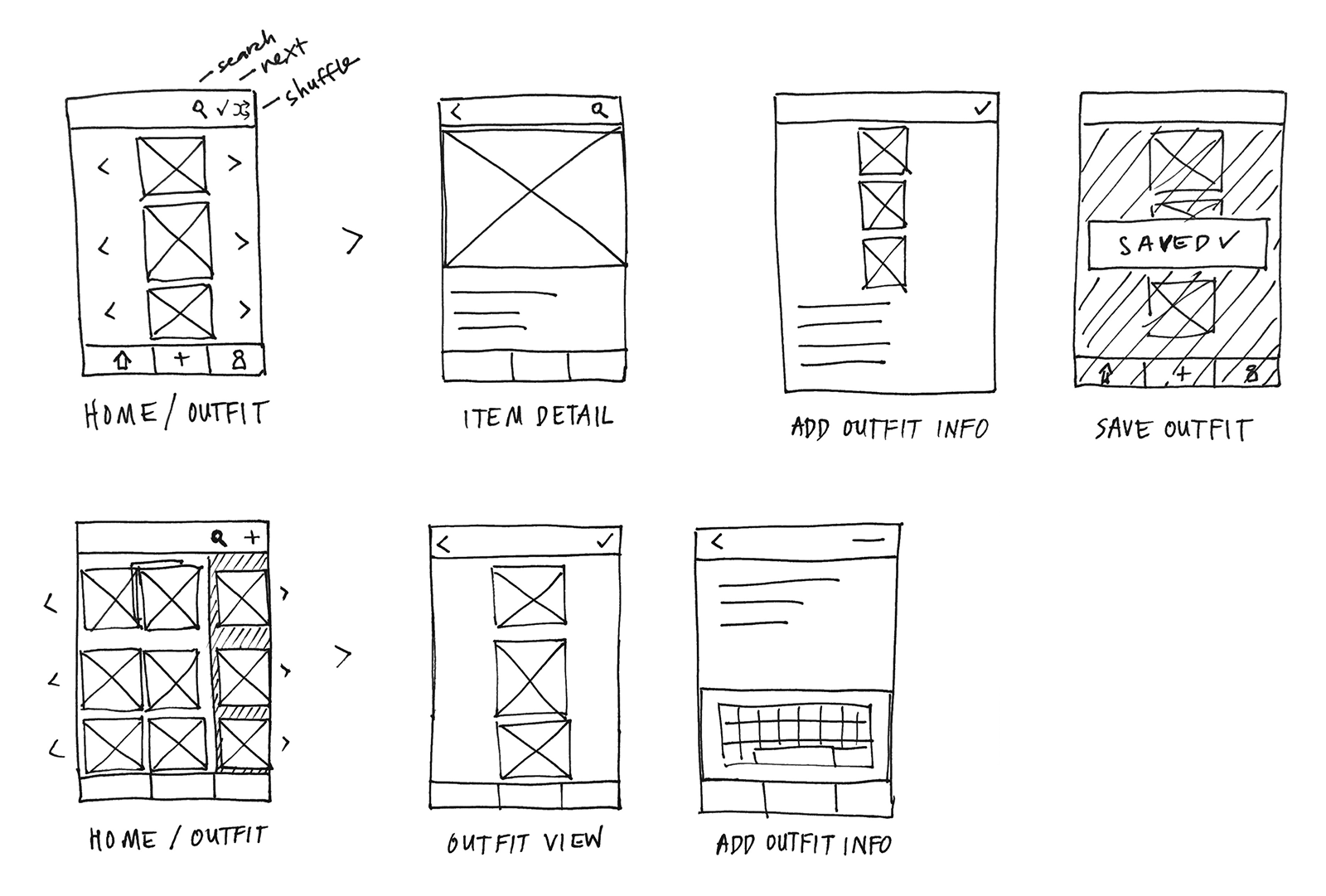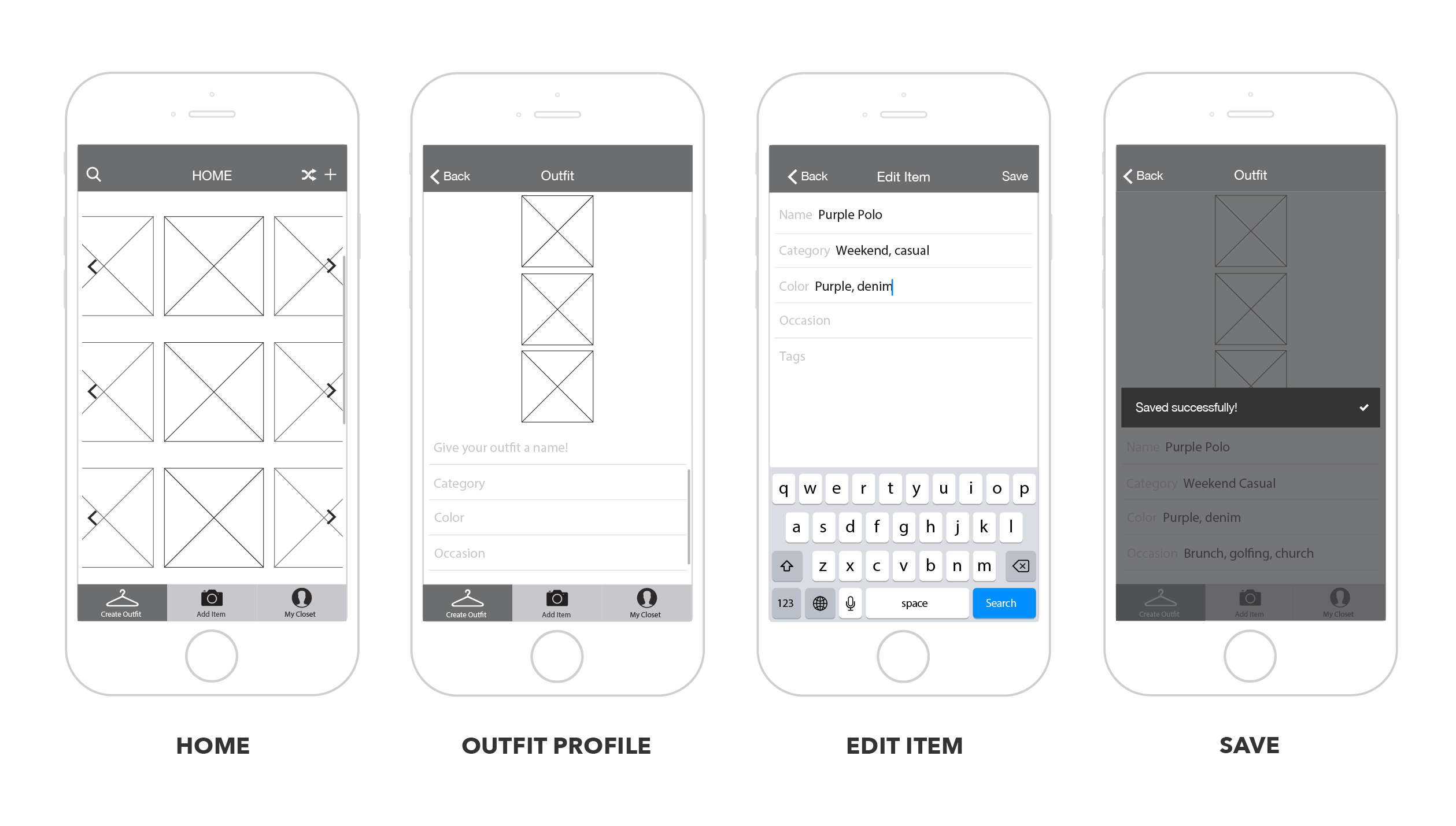 ITERATION B

Usability testing showed that users wanted a more visible view of each item in an outfit